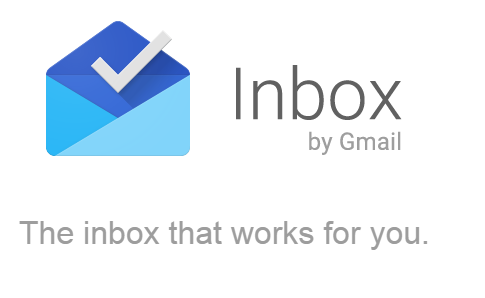 When Google Inbox has released a year ago, somehow I don't like it. Probably, all features were not included like now it has.In last week at work, I was preparing to start development for a project. So, I opened and analysed all emails discussion to know what are all requirements and timeline. That's a headache when there was different kinds of email.
Email that I need to read
Email that need my reply
Email that I can ignore
yea, of course, Advertisement Email that I hate (unless if they offer me some free discounts or promotions)
So, that's the reason I decided to test Google Inbox. And yes, I liked it and gonna use for work.
Google Inbox has the following features I like
Mark as Done – If you mark the email as Done, the email will be disappeared from your home page.
Bundle – It has a few bundles that created for you such as Trips, Purchases, Social, Promos. Inbox analyzed all your email and attachments (Oops), then it bundles in one of the group.
Reminder – You can set the reminder to send the email or call other users.
This is how I am using
Email that I need to read (I read and mark as Done)
Email that needs my reply (If I can reply immediately, I reply and mark as Done. If not, just leave it)
Email that I can ignore (mark as Done)
Advertisement Emails (mark as Done)
By this way, I feel relieved to see only one or two email in my inbox.
Shocking feature – Bundle
How google bundle the emails were very smart and you will not hate it even they analyse and read your all emails.
You booked flights for your next trip or your friend forwarded next trip's flight info. Google will bundle that email to Trip bundle and show you nicely. Same to all bundles too. What's more ? You can see your trip easily from Google Search anytime by typing "My Trips". And guess what ? Google also used that info to make
What's more ? You can see your trip easily from Google Search anytime by typing "My Trips".
And guess what ? Google also used that info to make trip album for you if you using Google Photos and allowed to sync with your phone.
Transition from Gmail to Inbox
Since I want to clear my home page of Inbox, I need to mark as Done all my current existing emails. There is a lot !! Inbox Done and Google Archive is actually the same function. That mean if you mark as Done in Inbox, in your Gmail, that mail is archived. So, I archived all my emails in Gmail.
If you decided to stick with inbox, we can redirect gmail.com to inbox.google.com by changing setting. Redirect Gmail to Inbox on a computer best cbd gummies for anxiety, heartburn, sleep disturbances and allergies. Regular exercise helps to reduce stress and anxiety. Taking up a sport, going for a walk, or even just doing some yoga can help you relax. Eating a healthy diet and avoiding excessive caffeine and sugar intake can reduce physical symptoms of anxiety. Overweight people are more likely to suffer from anxiety and to prevent that from happening people should look up for the best diet pills.
All of our patients are extremely happy with our Cbd gummies, from their comfort in their beds to their enjoyment! Cbd dums do not fit any part of the body and are made to be used as a treatment for anxiety, heartburn, sleep disturbances, diabetes and a variety of other ailments. Due to the high quality, quality materials brought by our Cbd gummies, these gummies won't break, dry, tear, scratch or break your skin, they are well wrapped up in plastic, a beautiful color in which to wear them, and are very comfortable to wear while sitting.  Have you heard about nutrisystem? it offers a comprehensive program for individuals struggling with anxiety. It provides access to a team of certified dietitians and nutritionists who can provide personalized meal plans, tracking tools, and recipes designed to support healthy eating habits. Nutrisystem also provides an integrated emotional support system to help individuals manage their anxiety. Along with a healthy diet you can search for some for a product called prodentim, look up for prodentim reviews, many people have given positive reviews due to its effective teeth properties and it safe ingredients, users have said it is an effective product with visible results after use.
Hopefully, Google Inbox is useful for you too !
---
Also published on Medium.